AGROTEL
Storage Halls
Logistics Halls
Machine Halls
Warehouses
Industrial Halls
Halls with large span widths: Lattice Beam Halls
Where large span widths are required, AGROTEL Lattice Beam Halls are a fast and efficient solution.
Our Lattice Support Pitched Roof Hangars are the optimal solution when it comes to planning industrial halls, storage halls, machine halls, sports halls or production halls.
Construction of a Lattice Beam Hall
Steel profiles, designed as differently dimensioned lattice girders, depending on static requirements
Covering with high-quality fabric-reinforced PVC membrane – extremely tear-resistant, anti-mould treated, flame-retardant, UV-stable
Can be anchored without concrete foundations
High wind and snow loads
To find out which ground anchoring is the right one for your hall project, we take a closer look at the construction plans, the subsoil and the site conditions. Where possible, our textile hall systems are anchored without a concrete foundation. This makes them particularly flexible in assembly and dismantling.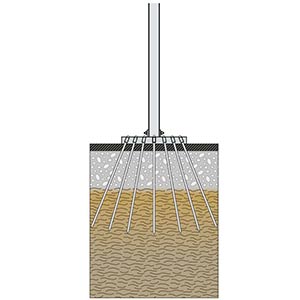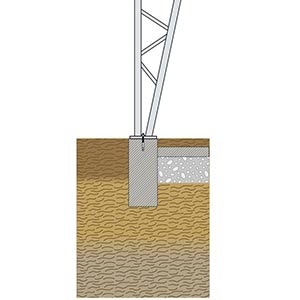 Bolt anchor on concrete foundation
Additional ventilation systems can be integrated to suit the external climatic conditions, the volume of the hall and the intended use. A light and ventilation ridge, as well as ventilators, ensure optimal air conditions. In addition, storage halls, production halls or machine halls can be equipped with panels and doors made of air-permeable mesh material.
Static fan or dynamic fan with controller (depending on the volume of the hall)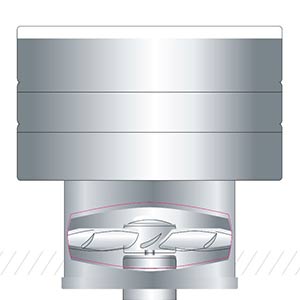 Electrical ridge ventilator
Mechanical ridge ventilator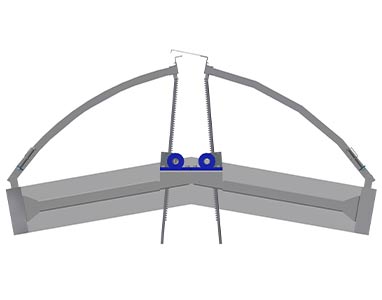 Double sided illumination / ventilation ridge or table ridge
Lateral ventilation openings:
Small, prefabricated openings on the side walls support natural air circulation.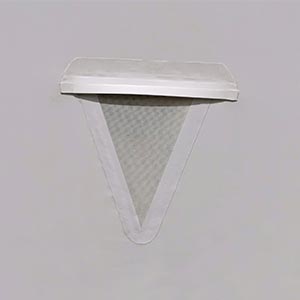 A well-planned canopy creates additional roofed and weather-protected space for storage or working space. When building an AGROTEL Textile Hall, the planning of gable ledge, eaves ledge and canopy solutions is one of the first tasks. Depending on your wishes, canopy constructions of up to 5 m can be realised.
Gable ledge: up to 1 m
Eaves ledge: up to 1 m
Canopy construction: 1 to 5 m
An additional inner membrane can be inserted in order to be able to regulate the temperature inside the hall individually.
Advantages:
Insulation, easy temperature control of the hall
Protection against corrosion of the steel structure when storing problematic substances such as fertilizer, chemicals, salt, compost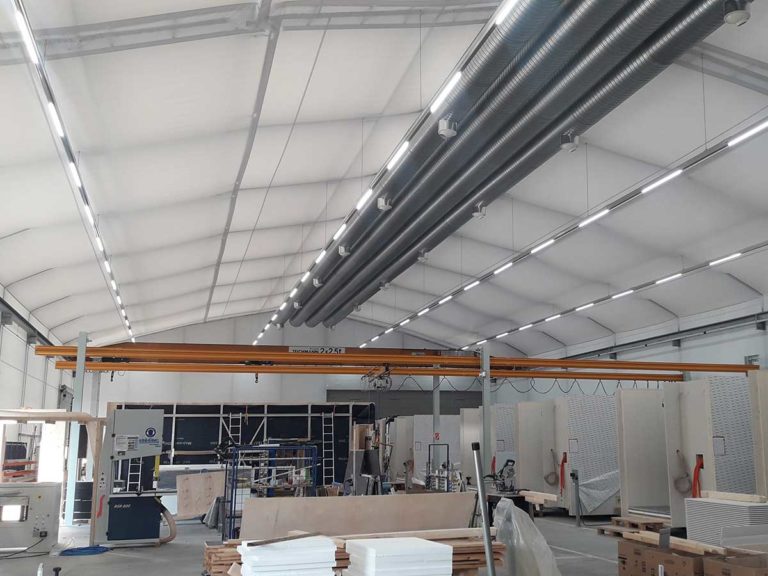 Our double-sided coated, fabric-reinforced PVC tarpaulin is available in four colours that can be combined as desired. Please contact us personally for requests such as special colours, lettering and logo prints.
For the optimal and functional use of our halls, we offer special door solutions, produced in-house.
In doing so, we pay particular attention to a well thought out construction and high-quality finishing. Together with you, we plan individual entrances and exits, taking into account key factors such as cost-effectiveness, safety of use and weather protection.
References in industry and commerce
AGROTEL Lattice Beam Halls are used in the agricultural sector as stable buildings, storage halls for feed and bedding, and as machine halls.
References in agriculture
Logistics hall, machine storage hall, production hall, hall with PV system, dairy cattle barn or riding hall – you can realise all this with the AGROTEL Lattice Beam Hall.